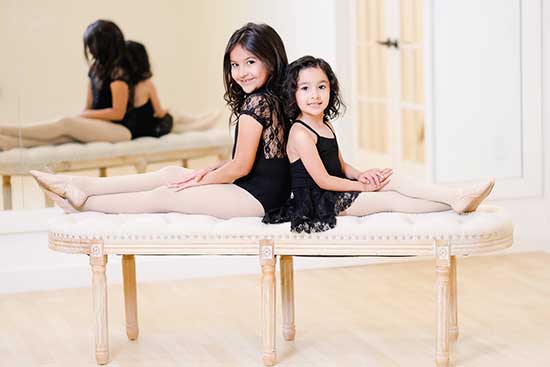 A Chance to Shine
Recital is a rite of passage for young dancers — a chance to shine in front of family and friends. Students anticipate with nervous excitement the opportunity to present the skills they have worked on so diligently all year.
A big part of the dance training process includes learning through performance. The experience helps build self-esteem and confidence. Onstage experience can also result in better school presentations, improved social skills, and strong interview skills for future college or job opportunities.
We are so excited to experience an amazing recital season with all of our families and fantastic performers. Recital time is an important step for our students, and it creates life long memories. Let's make them great memories!
RECITAL INFORMATION


Recitals are held at the end of Fall semester.
There will be a Recital Orientation the day students receive their costumes. This date will be announced later in the semester. The orientation will be held during the student's normal class time. A recital class mother will be assigned for each class on this day.
Recital 2022
Recital location and time will also be announced later in the semester. More Recital information will be given out later in the semester.
2021-2022 Recital Fee
There is a recital fee that is due in December, which covers the expenses of the venue rental, sets, union workers, security, certificates, etc. This fee is non-refundable.

One Child - $125
Two Children - $200
Three or more Children - $275
COSTUMES
COSTUME POLICIES
Everything will be included with your costume except proper shoes - if you do not have the appropriate dress code shoes yet, make sure you have them for the recital, the sooner the better.
Students cannot perform without proper shoes.
We carefully measure all students before ordering costumes and factor in growing room but sometimes costumes still do not fit perfectly (pants need to be hemmed, straps shortened, your child had a huge growth spurt so a leotard needs to be lengthened, etc.). Any necessary adjustments are your ultimate responsibility.
Students will learn a different recital routine for each class they are enrolled in.
There is a different costume associated with each class. Children will be measured for their costumes in November.
Costumes will be ordered by JK Dance Center by December to ensure delivery in time for the dance recital.
Costumes will be handed out in April.
If you pay for a costume and then your child drops out of the class, you may still pick up your costume. Once costumes are ordered this fee in non-refundable.
All costumes not picked up by the end of June will become the property of JK Dance Center.
COSTUME FEE
Our Spring Recital is held at the end of the Fall Semester; location will be announced later in the year. There are two Costume Installment Fees. The 1st installment is due in October and the 2nd installment is due in February. These installments cover the costs of Recital Costumes, Tights, Recital T-Shirts, Recital Accessories, and 1 Recital Program Book.
1st Costume Installment Fee
(Covers Recital Costumes, Tights, Recital T-Shirts, Recital Accessories, and 1 Recital Program Book)
1 Costume - $140
2 Costumes - $215
Students in Multiple Classes add $80 per class
2nd Installment Fee - Calculated after everything has been ordered.
Costume Fees cover the cost of Recital costumes, T-Shirts, tights, hair pieces, and accessories.
DISCLAIMER: The costume fees are just a deposit. The total amount will be determined after the costume orders are finalized. Two-payment option available.